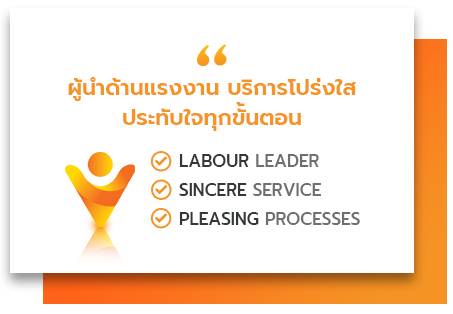 If your organization is seeking for a professional ang legally authorized foreign employment agency with turnkey service, Advance worker Company Limited is the best solution.

Foreign Worker Employment Agency Advance Worker Company Limited Our Company was established form the collaboration between Thailand's leading specialists in foreign employment. We legally bring labour into the country's employment system. The Company has registered with a 5 million THB retention sum and certified from the Ministry of labour to operate in the foreign workforce. Our well-selected laborers are carefully paired to suit an organization's requirement, from industrial factories to construction works and so on.
Foreign Worker Employment Agency Advance Worker Company Limited will constantly advance forwards and develop our service for greater effectiveness. Quality, legal and practical workforces are always considered as our client' cost worthiness is one of the main goals. Because Advance Worker Company Limited takes pride in the trust and comfort our clients feel from service received, we shall continue to provide honest, turnkey service at a reasonable price to support and drive our clients' businesses towards prosperity.
Why to choose Advance Worker?

Convenient / fast

With a professional management system Ensuring that we are able to deliver labor within a short time.

Selection / Quality

We established a skill development center in the country of origin. Ensure that skilled labor will be obtained.

Complete / legal

You will receive documents about foreign labor correctly and completely ready to work.

Care / attention

After the labor delivery Regardless of how long the time has passed, we are always ready to take care of labor problems.